PRESS RELEASE: Cash Depot Launches BANK IN A BOX
Announcing the future of retail cash management & consumer financial services - BANK IN A BOX. New technology combines reliable equipment with proprietary back-end functionality to provide convenient, affordable cash solutions for retailers and their customers.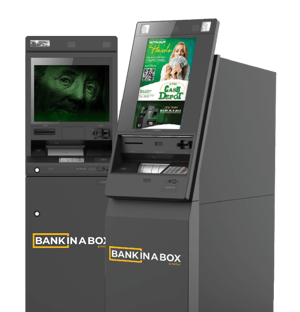 Cash Depot Ltd. (Cash Depot) announces the official launch of its new cash management, ATM, and consumer financial services system, BANK IN A BOX. The technology is designed to provide a versatile cash solution for progressive retailers with unbanked and underbanked consumers by combining smart safe, cash recycler, ATM, and financial services kiosk into one powerful machine.
"BANK IN A BOX is a new take on retail ATMs and cash handling," said Sean Burke, CEO for Cash Depot. "It essentially turns what would usually be a cost center into a profit builder and customer destination."
The BANK IN A BOX system leverages an innovative and custom-built technology stack on top of the latest in cash and ATM equipment to provide a unique all-in-one solution for retail locations. The cash functionality includes, but is not limited to:
Start of shift register funds
Split bills & pull change
Unlimited deposits for intra-day and end-of-shift
Real-time, customizable reporting
Complete, back-end permissions control in the proprietary BANK IN A BOX portal
In addition to robust store cash management, the standard BANK IN A BOX application stack includes ATM functionality, multi-denominational transactions, and bank deposits for account holders of participating financial institutions. Many additional revenue-generating applications are in development or already available upon request.
"There are far-reaching benefits and opportunities provided to us and our retail partners by solving a consumer need with BANK IN A BOX," said Tony Gaines, CRO for Cash Depot, "and we are excited to bring this truly disruptive technology to market."
Discover how BANK IN A BOX can benefit your retail business by clicking here or contact us for more information and a free evaluation.